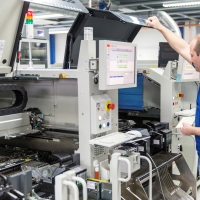 Our supplier and partner EFG GmbH has expanded its production and since the end of 2016 has been active in the new location in Aldenhoven with an expanded production area and many new options such as cleanrooms and air-conditioned storage.
In order to optimize our many years of successful cooperation with EFG GmbH, we opened a second additional development site in the spring of 2017 in the new EFG building in Aldenhoven.
This spatial integration of the development, including a new test laboratory, together with EFG now gives us the opportunity to offer our customers the entire process of consulting and development as well as on-site manufacturing and support as a complete solution.
Together with the specialists from EFG, we consider the subsequent procurement of materials and all boundary conditions for a production of the product from the beginning = fast and optimal results for our customers!
.